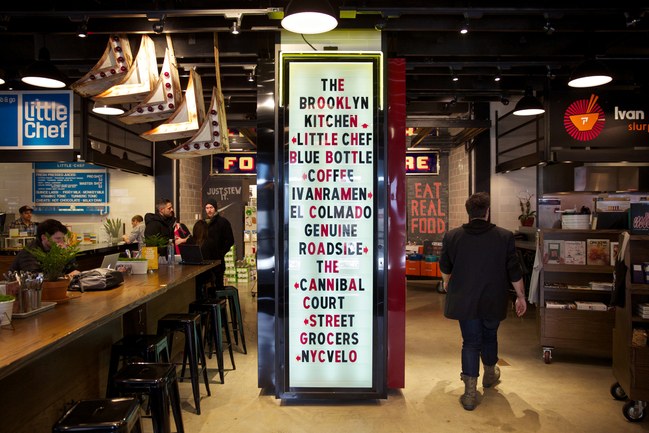 Elizabeth Dunn | The New Yorker | November 29th, 2017
In 2010, the chef Todd English opened an indoor market in the basement of the Plaza Hotel, in Manhattan. Back then, the term "food hall" was still largely alien to many Americans. It belonged to Britain, to describe the section of a department store where one might buy tins of loose-leaf tea and Christmas hampers, or pause for a glass of champagne. Todd English's version stuck close to that mold, mirroring "the aesthetics of the finest food-specialty markets throughout the world," and it was an overwhelming success. In its wake, the American food hall flourished, and took on a life of its own. Some included butcher shops, or bakeries, or kitchen-supply stores. Others focussed solely on prepared food, such as bánh-mì sandwiches or tacos, served over the counter by local venders. A dominant aesthetic emerged: exposed ductwork, cement floors, subway tile, and long, wooden communal dining tables. Anachronisms like New York City's Chelsea Market and San Francisco's Ferry Building, once called "marketplaces," were duly rechristened. In 2010, there were a couple dozen spaces that fit the definition in the United States. Garrick Brown, who studies the topic for the real-estate-services company Cushman & Wakefield, anticipates that there will be three hundred by the end of next year. In Manhattan alone there are now at least sixteen food halls, with many more in planning or construction. A project by Anthony Bourdain, in the meatpacking district, intends to cover a hundred and fifty-five thousand square feet, nearly the size of three football fields.
In contrast to the food court, with its Auntie Anne's and Panda Express, the food hall eschews big chains in favor of local, artisanal purveyors, dazzling the visitor with a vision of a thriving economy of small businesses operating side by side. It is tempting, therefore, to see the proliferation of the food hall as a victory for the little guy. This is not entirely accurate. Much of the current expansion is driven by property developers grasping for ways to reinvigorate moribund shopping centers, or to gin up interest in new developments. Traditional retail is waning; millennial consumers, the marketing consensus tells us, aren't interested in "stuff" so much as in experiences—as well as choice, convenience, "authenticity," and things that make good photographs. You can see where the food halls come in. The markets themselves can provide landlords a healthy income, but, to those looking to offload high-rise apartments or office space, they offer prospective tenants something even more stirring: an amenity. Drop a food hall into the mix, and the whole development basks in the soft, Edison-bulb glow of the small food businesses inhabiting its ground floor, luring tenants with the siren song of pour-over coffee and craft beer.
Gotham West, a luxury apartment complex on Manhattan's far west side, was among the first to cotton on to the idea, in 2013. A developer like Gotham can offer a persuasive pitch to chefs struggling to raise enough money to open a stand-alone shop: minimal startup expenses, short-term leases, and rents that, while expensive on a square-foot metric, come in well below the total cost of a larger conventional restaurant space. What's more, the food-hall developer provides marketing and handles hassles like wiping down tables, washing plates, and paying the gas bill. Think WeWork, but for restaurants.