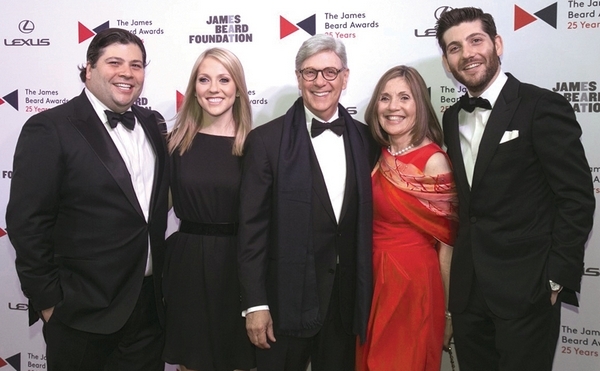 By Peter Frost | Crain's | May 6, 2017
Rich Melman founded what would become the country's biggest independent restaurant group, Lettuce Entertain You Enterprises, in 1971. When it's time, he plans to hand it over to his children, R.J., Jerrod and Molly. That time is coming.
Rich Melman wants to start taking Mondays off.
The co-founder, executive chairman and creative genius behind the nation's largest independent restaurant group, Lettuce Entertain You Enterprises, hasn't set aside much time for himself over his 46-year career. Though he looks at least 10 years younger, Melman turned 75 in March and says he can't stay on his feet as long as he once could. To most people his age and stature, taking an extra day off would mean staying home from the country club. But to Melman, it means reducing his schedule to a five-day workweek.
His inability to take time off is not a reflection on the state of Lettuce, which has grown to more than 7,400 employees spread across 127 restaurants in a half dozen states and $580 million in 2016 sales, and which, executives say, is in its best financial shape ever. Instead it's a symptom of his unrelenting desire to be near a kitchen, strategizing with his partners, and an equally strong need to keep creating. As long as Melman is upright, he will have his hands in his restaurants, brainstorming menu items in his journal or padding the 50 feet from his office to Lettuce's test kitchen in the former Jonathan Livingston Seafood in Edgewater. Restaurants are his vocation, his hobby, his passion and "all that I think about and all that I do," Melman says. "I'm sort of not a well-rounded person."
That singular focus has served him well since he opened R.J. Grunts in Lincoln Park in 1971 and worked his way into the country's restaurant royalty, becoming a universally revered figure who has been showered with virtually every major award in an awards-obsessed business. He's the Meryl Streep of hospitality, a once-in-a-generation talent who has built an unmatched restaurant empire. Talk to those inside and outside Lettuce about Melman, and they'll describe him with words like "legend," "pioneer," "genius" and "mentor."
He appreciates but swats away the praise. "I don't want to be the biggest. I don't want to be the richest. I don't want to be the most well-known," he says, sitting back in an office chair he's parked in front of his desk. "I just want to be good at what I do. It keeps my life in balance. If you have all you need, what more could you want?"
But as he begins to inch away from his business, however slowly, Melman threatens to leave a void at Lettuce that no one person can fill. While he has ceded control of day-to-day operations to longtime Lettuce CEO Kevin Brown and their growing slate of partners, who include Melman's three adult children, the question of Melman's future level of involvement weighs on the company.
No one has ever worked at Lettuce without his constant supervision, counsel and dictatorial tie-breaking vote in all business matters. Both by dint of his authority and his majority ownership, he holds together an increasingly sprawling enterprise that's split into factions of partners who lead separate divisions. He helps settle disputes and foster transparency and competition, and he has the gravitas to command the reverence of virtually everyone within the company. When Rich Melman makes a decision, others in the organization fall in line.
When Chicago's dean of restaurants walks away from his empire for good, a new leader will emerge, and Melman is adamant that he will come from within his family. But as with all dynasties, there's tension and uncertainty among the crew as ownership and leadership transition to the next generation. At this juncture some companies crumble. Others are paralyzed by a power struggle among the successors. Many sell out.
But Melman and Brown say Lettuce has a deep bench of strong, self-propelled leaders who are ready to take the company into a post-Rich future. They include sons R.J., 38, and Jerrod, 34, who are executive partners and serve on the Lettuce executive committee, its de facto board of directors. They also run their own division of restaurants, which includes the RPM franchise, Hub 51, Bub City, Ramen-San and Summer House Santa Monica. Their sister, Molly, 32, is a managing partner who oversees hiring and training for Lettuce restaurants.
Rich Melman gets up to rummage through a cluttered closet and pull out R.J.'s first Lettuce job application from nearly 30 years ago. His sons and Brown chuckle as he points out that the one-page form asks permission for the employer to contact the applicant's parents. R.J., obviously, checked "yes." It's Melman's way of showing how long he's been prepping the kids.
"Rich's DNA is all throughout the company," says Rob Katz, co-owner of Boka Restaurant Group, who along with partner Kevin Boehm this year was a finalist for the second time for the same James Beard Foundation award for best restaurateur that Melman bagged in 2011. "Whenever you walk into a Lettuce restaurant, you're always going to get great service and hospitality. You're going to feel good. Rich is incredibly detail-oriented, and the second you walk in, you feel that."