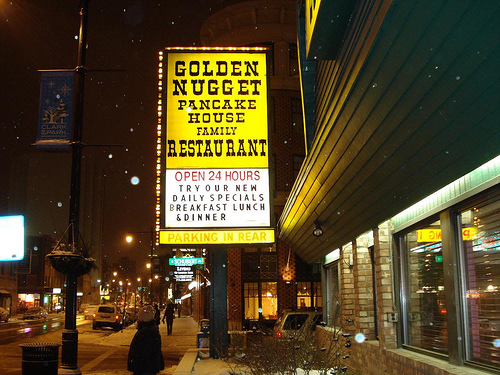 1. Mr. Greek Gyros – 234 S Halsted St
Many a Chicagoan have ended up here on a late night and wondered how they made it in and out of Greektown—but remember this—that gyro was probably delicious. Perhaps give it a go during daylight hours too.
2. Lawrence's Fish & Shrimp – 2120 S Canal St
Fried fish and shrimp whenever you want is a luxury. You can explore this luxury at Lawrence's on the near South Side. Get your fried shrimp thrown into a po' boy or tossed onto a bed of fries late into the night and early into the morning.
3. Golden Nugget – 3234 W Irving Park Rd
Golden Nugget's iconic signage has been looking over Chicagoans that are hungry for late-night eats since 1966. Along with standard breakfast fare, it serves a variety of sandwiches, fried steaks and chilaquiles. It's a classic spot to hit up after a late-night bar crawl or concert.
4. Tempo Cafe – 6 E Chestnut St
There's a lot to do around Rush and Division. Once you're done doing it all, head over to the nearby Tempo Café and enjoy some of the best late-night breakfasts you'll never remember. If you're there while the sun is rising, you might run into some unfamiliar faces, but very familiar bodies.
5. Dat Donuts – 8249 S Cottage Grove Ave
Not only is Chatham home to arguably the most popular hip-hop artist right now, but it is also home to one of best doughnuts in Chicago. It's worth taking a chance on Dat Donut at any hour you feel the need for that sweet, floury sugar rush. If you're feeling daring, go with the toilet seat-sized Big Dat. It's open 24 hours, six days a week.