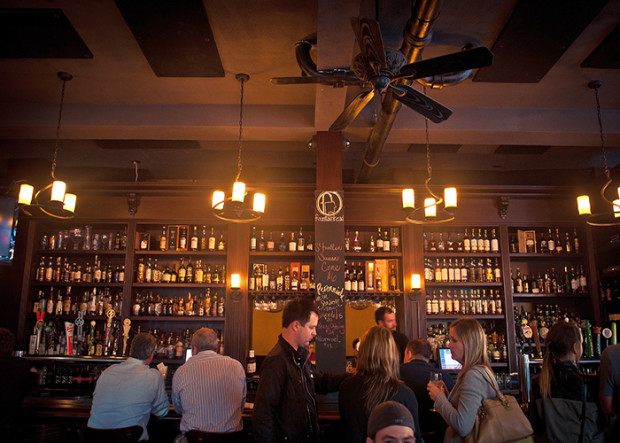 March 31, 2017 | Chicago, Food and Drink, North America
When visiting a new city, you can tackle it in one of two ways: as tourist or traveler. As a tourist, you can hit all the popular attractions and stick to larger, well-known chain restaurants. But where's the fun in that? If you want to dig deeper, approach the city as a traveler and discover where locals like to go for fun, dinner, and drinks. These spots are often found deep inside neighborhoods, away from the main tourist drags. Here, we present six options to drink like a local in Chicago, a city that always finds reason to celebrate.
The Gage
Steps off Millennium Park on Michigan Avenue, The Gage is a perfect respite from the throngs of people hitting Pritzker Pavilion, the Art Institute and other attractions along the Cultural Mile. This upscale pub, awash in moss green subway tile, a long wooden bar and plenty of locals packing in for lunch and after work, offers a refined menu including P.E.I. mussels vindaloo, fish and chips and a deliciously stacked venison burger. As for drinks? They have a wide selection of beer and cider, but the rare whiskey collection and "Somm Treasure Chest" featuring unique wines at accessible prices are can't-miss.
Plymouth Restaurant & Rooftop Bar
Whether you're ducking into the restaurant for lunch or hitting the lively rooftop at dusk, the Plymouth is one of the best haunts in the Loop. Frequented by workers escaping the office, the Plymouth is a laid-back place to grab pub grub with a shot and a beer. The ground-level bar is always welcoming, but it's the year-round rooftop bar that's the real draw. Overlooking Harold Washington Library, the rooftop is a special spot in the heart of the bustling Loop to gather with friends or coworkers. Inexpensive daily specials like $6 martinis or $4 Blue Moon pints will keep you coming back for more.