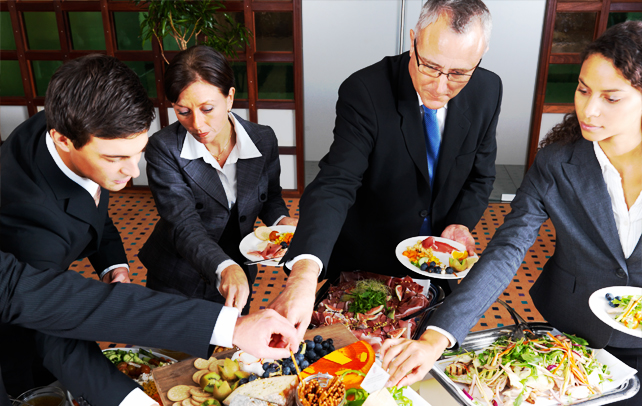 Move over, brown bags, there's a new lunch app in town that promises to go easy on your wallet and tummy. Launching today in Chicago, MealPal—which is already available in New York, San Francisco, Boston and Miami—is the brainchild of Mary Biggins (ClassPass) and Katie Ghelli (ZocDoc) and offers users weekday lunches for a flat fee of $119 per month. For the math deficient, that rounds up to about $6 per lunch.
If you're thinking to yourself that this sounds just like every other food-delivery app we already have at our fingertips, there's one small catch. There isn't a delivery element to this technology, unlike GrubHub, UberEats and Fooda. MealPal members must peel themselves away from their computers (big ask, we know) to go pick up lunch at participating restaurants.
"In terms of convenience, it's certainly convenient to have a meal delivered right to your door, but that really takes away from the affordability," Biggins said. "With MealPal, you're going to get the same meal you'd get through some of these other services. It won't be delivered right to you, but you're going to get it for a fraction of the cost."
Of course, this extra step could deter some, as research has shown that only one in five Americans steps away for a midday meal. Still, Biggins argues that her app could be a push in the right direction.
"There will certainly be times where people want to or need to pay for the convenience of having something delivered right to them on demand. But we think most of the time people are probably better served to actually get up from their desks and take a five- to 10-minute walk and go pick something up," Biggins said. "It's probably better for your overall mental health as well as your wallet."
Biggins said she expects that MealPal will launch in Chicago with about 75 restaurants including Freshii, Vapiano, Just Salad, Peach and Green, and Asada Mexican Grill. In other participating cities, there's a balanced mix of healthy (juices and salads) and stuff-your-face-with-carbs (pizza and ramen) options. Restaurants reveal their one-item MealPal menus at 5 p.m. the night before, and users have until 9:30 a.m. the morning of to place lunch orders.
Like ClassPass, MealPal (which used to go by the name MealPass) has already undergone some changes in its infancy. The latest version, available in Chicago today, boasts more customizable preferences, reminders to order and a longer booking window. Because the database of restaurants associated with MealPal is expected to grow, these updates allow users to refine their search through a series of questions about personal likes and dislikes.
In a technologically advanced city that loves to lunch, only time will tell if MealPal can get folks out of the office to make the service worth the monthly fee.