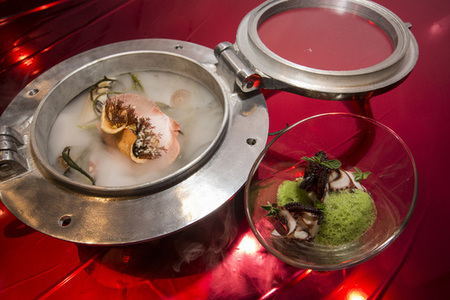 Hillary Dixler | Eater
Next, the Chicago restaurant that reinvents itself around a new theme multiple times a year, is currently dedicated to Hollywood. That means guests arrive on a "step and repeat," as at a red carpet premiere. It also means that each course in the tasting menu is somehow tied to movies generally or a specific film.
To executive chef Jenner Tomaska, food and film are a natural pair. "Whether it be the focal point or not, there's always some type of hospitality or food related scene in a movie. To me, it's cool to see when it happens and it's the focal point." When it came time to create the menu, Tomaska says he and his team shed their typical "less is more philosophy." Observers of Next will see a link to some past menus in the look of the food itself, but probably not in the serving pieces. "We had to hit enough nostalgia points and enough movie points, so that every diner that came in could have a reference to something," the chef explains. "Whether it be to all the movies, or to more than half, is what we really wanted."
"Although the service pieces have strong visual connections to the films, the dishes themselves are much more interpretive," says Greg Morabito, who covers pop culture for Eater. Some dishes are quite literal — the Ratatouille course, for example, is basically gourmet ratatouille served on a mousetrap. But for the most part, Jenner says he "kept it open," playing with flavors and ideas, making "food replicate what the movie stood for." Beyond highlighting specific movies, Tomaska's menu also tracks film history, following a chronological progression.