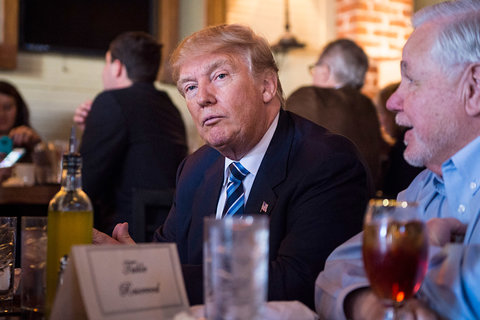 By: Julie Jargon and Annie Gasparro | November 9, 2016 | WSJ.com
Food is food, but investors in companies that serve it at restaurants are viewing the election of Donald Trump differently than those who invest in businesses that package and sell it to supermarkets.
The restaurant industry's lobbying group said it expects President-elect Trump to lift regulations it says have stifled growth and to spur spending.
"I think Trump's win will be great for the economy. I think we'll see real GDP [gross domestic product] growth and that will be great for the restaurant and retail industry," said Andy Puzder, chief executive of CKE Restaurants Inc., the privately held parent company of Carl's Jr. and Hardee's, in an interview.
Several restaurant chains, including The Cheesecake Factory, Bravo Brio Restaurant Group Inc. and Olive Garden parent Darden Restaurants Inc., had sizable share gains in midday trading Wednesday.
But shares in global packaged food and beverage companies including Mondelez International Inc., Kellogg Co. and PepsiCo Inc. fell as analysts warned of implications on global trade.
Analysts say Mr. Trump could impose trade restrictions with countries such as Mexico and China, given comments he made opposing the North American Free Trade Agreement and the Trans-Pacific Partnership.