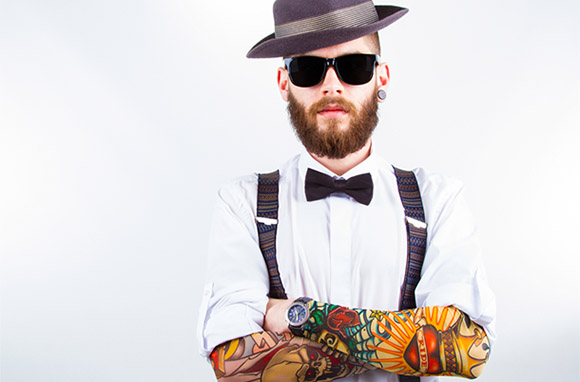 Claire Volkman | April 24, 2017 | PASTE
It may not hold a flame to Brooklyn or Portland in terms of sheer volume, but Chicago certainly has its share of flannel wearing, beard-donning, ironic mustache grooming hipsters. However, unlike a few years ago, that term no longer comes with a heavy hand of spite or negativity. In fact, these hipsters are the ones who are helping revitalize some of Chicago's newest "it" hoods, like Logan Square and Bridgeport, for example. And, as appreciators of small-batch liquors, craft beer and locally distilled spirits, they're also inspiring a new wave of bars in the Chi-town area – ones that boast unique and mismatched decor, innovative cocktails made with egg white foam and aromatic bitters and playlists that sound like they belong in Garden State. If you're tired of penning your screenplay or need a break from running your digital agency, hop on your scooter, unicycle or $3,000 bike and head to one of these quirky watering holes. And, even if you're not identified as a hipster, don't fret – these bars have plenty of appeal for the regular folks too. Plus, can you get any better people watching?
Emporium Arcade Bar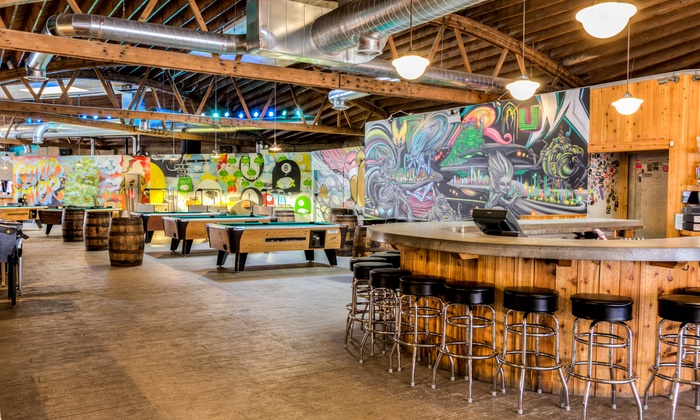 Unless you've been living under a rock, you've probably heard of (or at least seen) the new wave of arcade bars sweeping the country. Tapping into millennial nostalgia, bars like the Emporium Arcade Bar in Logan Square and Wicker Park offer a slew of vintage arcade games for patrons to play completely free of cost. Emporium's location in two of Chicagoland's most hipster hoods plays well to its advantage, and you'll find this bar filled with an eclectic array of people any day of the week. With Mario Cart inspired murals painted on the wall, exposed brick, wood-paneled bars and a vintage bus slanging food cart fare (in the Logan Square location), there's plenty to gaze at while the familiar chorus of a pinball games decorate the air. The beers are a plenty, and both locations offer a hearty draft selection with even more locally brewed beers in bottles and cans. Note, they only serve food at the Logan Square location, but the bartenders encourage you to BYOF to the Wicker Park spot. All of the games, except for the pin ball, are free if you drink.
Three Dots and a Dash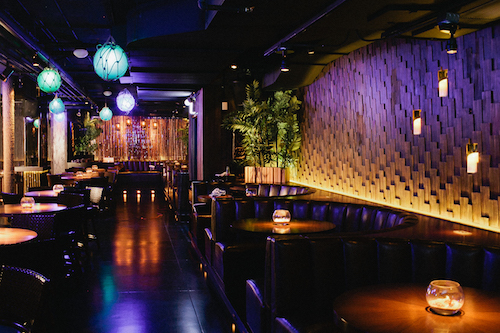 Part secret speakeasy, part Hawaiian tiki bar, Three Dots and a Dash is a far cry from the other bars and restaurants that line the swanky Gold Coast/River North area. Paying homage to the original tropical bars like Trader Vic's and Don the Beachcomber, the bartenders in this basement-level bar all rock Hawaiian shirts and serve up original tiki cocktails, like the Aloha Felicia (Caribbean rum paired with coconut cream, pineapple and Thai basil) in hipster-approved ceramic mugs. The décor is just as you'd imagine any subterranean, Polynesian bar to have – like vintage tikis, colorful globe lights hung from the low ceilings and a thatched grass roof overhanging the bar (white sandy beaches and mint-hued water sold separately). If you find yourself a tad inebriated on too many Treasure Chests (a giant pitcher of rums, pineapple, guava and Dom Perignon), order a few nibbles from the food menu. The burger and pupu platter are crowd favorites.
Simone's
Located in the still-blossoming neighborhood of Pilsen (penned to be the next Ukrainian Village or Bucktown), Simone's bleeds hipster charm. Eco-friendly mismatched enough to look like the basement in Stranger Things, Simone's fits right in Pilsen's main commercial drag. With a décor that's described as upcycled and eclectic, you'll easily spot old arcade game shells, a submarine tracking device, vintage ice-cream parlor stools and reworked chess tables just on your walk to the bar. Along with recycled finds, the bar touts an art gallery-esque collection of graffiti painted by local artists. The bar's passion for sustainability doesn't just show itself in the décor, but also in the actual building. The rooftop dons a hearty herb garden that's used to add fresh pizzazz to the fare and the roof is thatched with banks of solar panels to bathe the area in that hazy grey natural light Chicago is famous for. Drink wise, you'd be remiss not to partake in their seasonal beer list (that changes monthly) and features brews from all over the country. For food, their pizzas pair well with any of the brews (PBR tallboys included), and their appetizers, like the fried ravioli or tempura vegetables, offer just enough carbohydrates to help you successfully order yourself an Uber at the end of the night.
AceBounce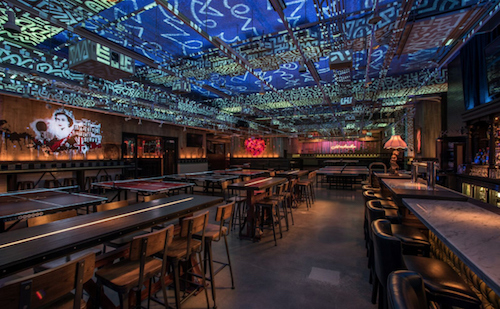 Who didn't spend many of their Saturdays in college playing aggressive games of beer pong (where more beer ended up on your shirt than your mouth)? AceBounce, the hip, Dave & Busters style bar in downtown, celebrates those long-forgotten college Saturdays in a slightly classier atmosphere than the fraternity basement you're used to. Unlike college, patrons take their ping pong seriously here, with tables renting out days in advance. If you can't get a table right away, order a signature cocktail – like the Gin soaked Night Harvest served with Aperol, Cider Noir Tea and Spanish cider – and gaze up. The entire ceiling is covered in glow-in-the-dark graffiti. You'll also find a neon-lit Chicago Bulls head over the bar and quirky figurine lamps on both bar tops. As you'd expect from any bar downtown, the prices can skew high, so head over for a hipster happy hour and order a $5 Ketel One Dutch Mule paired with a hearty pepperoni slider or grilled chicken thigh kebobs. If you're in the mood for more elevated cuisine, hop over the rails to the 1901 restaurant, which is framed by bright red subway tiles. The food here is reflective of Chef Rick Gresh's love of simple, but inspiring food. Opt for the fried oysters to start and savor the red quinoa tacos or the pappardelle with melt-in-your-mouth braised short ribs for the entrée.