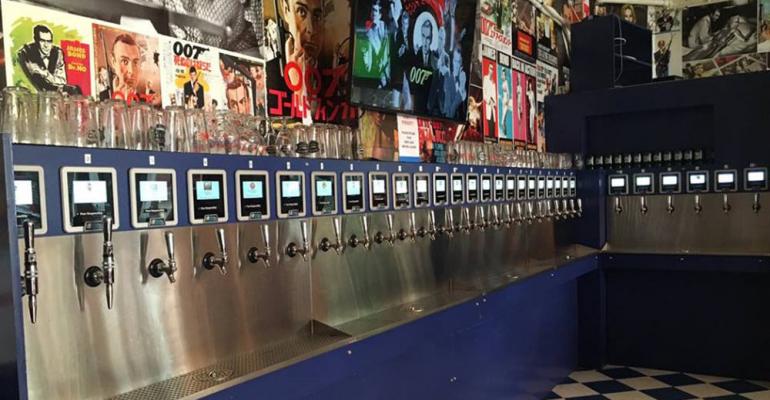 Liz Barrett | Restaurant Hospitality | September 11, 2017
Today's consumer loves convenience and new experiences, which is exactly what a self-serve beverage system delivers.
Access to a variety of alcoholic beverages when and where guests want them minus the wait time seems like a win-win for everyone. But is it right for your restaurant?
The average self-serve beverage system works like a vending machine with a loadable card or wristband.  Customers can either pre-pay, setting their own limit, or start a tab and pay at the end of their visit. A simple swipe of their wristband, or insert of their card, allows them to purchase beverages by the ounce — typically one, five or eight ounces at a time.
At JJ's Wine Bar (above) in Franklin, Tenn., 28 different wines are available to self-pour by using a smart card. JJ's co-owner Lisa Judd said in addition to trying wines they may not otherwise order from a wine list, guests using the self-serve system can take their time reading the wine descriptions and labels before making a decision.
"Guests can taste a very expensive wine, without committing to the entire bottle," Judd said. "We're able to offer three pour sizes: one ounce, five ounce and eight ounce; you won't find that on most wine lists."